"I LOVE PAPER SHREDDING IN HOUSE"
Many businesses handle most of their business processes themselves. Paper shredding is one such process since it involves confidential and sensitive information which is highly regulated by UK legislation. If you think that you comply with data protection laws better by handling this process in-house, then think again! If only it were that simple…
Here are the top 3  reasons to get rid of your office paper shredding equipement and outsource your confidential paper shredding.
Total compliance – Paper Shredding With Office Paper Shredders
Many office shredders on the market are not fully effective. The vertical cut designs will shred the paper, however with little effort and patience, someone could reconstruct the documents which will defeat the entire purpose of destroying them in the first place. Industrial equipment does a more thorough job to make sure that such reconstructions are not possible.
Since people will be involved in the destruction activity, it is a mammoth task to ensure that they don't access private information during the time of the actual operation. Incidents of company staff selling customer records to brokers have come to light in the UK, like in the case of the T-Mobile incident which happened in 2009. Also, storing documentation in a secure location with proper access controls poses huge challenges. Additionally, information security laws stipulate you to provide proof of destruction which you cannot provide when performing this activity in-house. Outsourcing the activity to a professional, on site paper shredding company ensures that you achieve total compliance in all aspects.
Save Time and Let Someone Else Do The Paper Shredding
As an organisation, time and money are your most precious resources and most do whatever they can to save  wherever possible. Start with your paper shredding services to achieve great savings. One of the most evident perk that you get when you outsource this operation is the time that is saved. This is not a job that can be completed quickly, people also have to face frequent paper jams and have to dispose of the waste afterwards. Imagine what your employees can do for the business with all the time they will have if they don't have to do this time-consuming and boring work? They can concentrate more on the core activities of the establishment.
Cost Benefits Of Outsourcing Your Paper Shredding
Outsourcing requires investment in terms of money. But it definitely saves you money over time, especially when this activity is scheduled to be done at regular intervals. Studies have shown that the benefits of such systematic on-site paper shredding outweigh the costs involved in shredding in house. Outsourcing also minimises risk of data protection breaches.  Also, when you have paper shredding equipment at your office you pay for their procurement and constant upkeep. Since they will obviously be used heavily, it is only a matter of time before maintenance charges start creeping up on the monthly bills. Allocating regular employees or recruiting staff exclusively for this purpose drains your finances and impacts the company's bottom line.
Appointing professional paper shredders will enable you to safeguard your business from any data breach incidents that most likely harm your reputation and bring about heavy fines under the stringent data protection laws of the UK. A data security policy without this critical component in place is incomplete and introduces risks that can potentially bring loss of reputation to your business that you can live without.
If you would like to discuss how the whole process works in more detail, then please get in touch with us today. Additionally, you can find out why it is our existing customers choose to shred with Total Shred.
Summary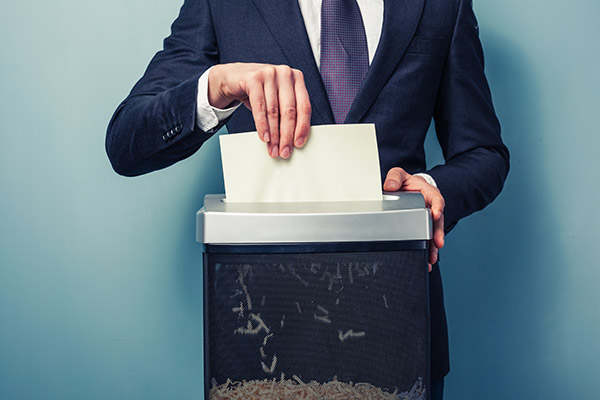 Article Name
3 reasons to get rid of your paper shredding equipment
Description
We've identified 3 main reasons as to why we feel people should dump their shredding equipment. They should just save the time and energy and simply use a shredding company.
Author